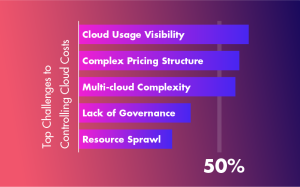 As the great shift to the cloud continues – with companies seeking to optimize their IT costs, ensure resiliency in changing environments, and function smoothly with a remote workforce – recent economic volatility has amplified these needs even further.
While cloud offers the promise of cost savings and scalability, its opaque pricing structures often result in unpleasant surprises, as companies struggle to get a clear picture of all aspects of their cloud usage (often across multiple providers) and to understand and manage their overall cloud costs. In a survey of over 130 IT directors, more than half cite visibility as the main issue in getting cloud costs under control. Almost half admitted their company wastes at least a third of cloud spend each year.
While a multi-cloud strategy can increase agility and minimize vendor lock-in, disparities in each provider's pricing make managing and coordinating cloud costs a major challenge. In a complex cloud environment, businesses looking to optimize their spending need a way to track which resources are being used and how those resources correspond to their pricing models.
When companies are able to monitor their cloud usage, they can ensure that their spending aligns with their business goals, eliminate waste of cloud resources, better estimate their future computing needs (and therefore choose optimal pricing plans), and identify anomalies in performance or security.
Cloud monitoring is quickly becoming a critical aspect of a business's overall observability strategy that provides a holistic picture of the health of their complex, distributed applications. It doesn't just help optimize costs; cloud monitoring also helps with performance optimization, along with creating benchmarks that are helpful for upgrading infrastructure and security. Examining application, server, API gateway, or firewall logs and alerting businesses of any anomalies, malicious access attempts, or DDoS attacks all help bolster an organization's security.
As monitoring cloud usage becomes more and more of a priority, the main cloud platforms (Snowflake, AWS, Azure) fall short in providing out-of-the-box monitoring capabilities. With our convenient Power BI, Tableau, and Microstrategy dashboards, you'll get a detailed, in-depth view of your cloud usage across all platforms, with easily-customized reports and alerts to get the most value from your cloud solution, within just hours of implementation.